It all started when I found out my husband didn't like fennel. And when some of my family refuses to eat anything I am trying to find the way through and cook it somehow that no one recognises the unloved ingredient. Nobody ignores any kind of food in my kitchen! (Well, except me, of course, and I am quiet fussy with what I eat).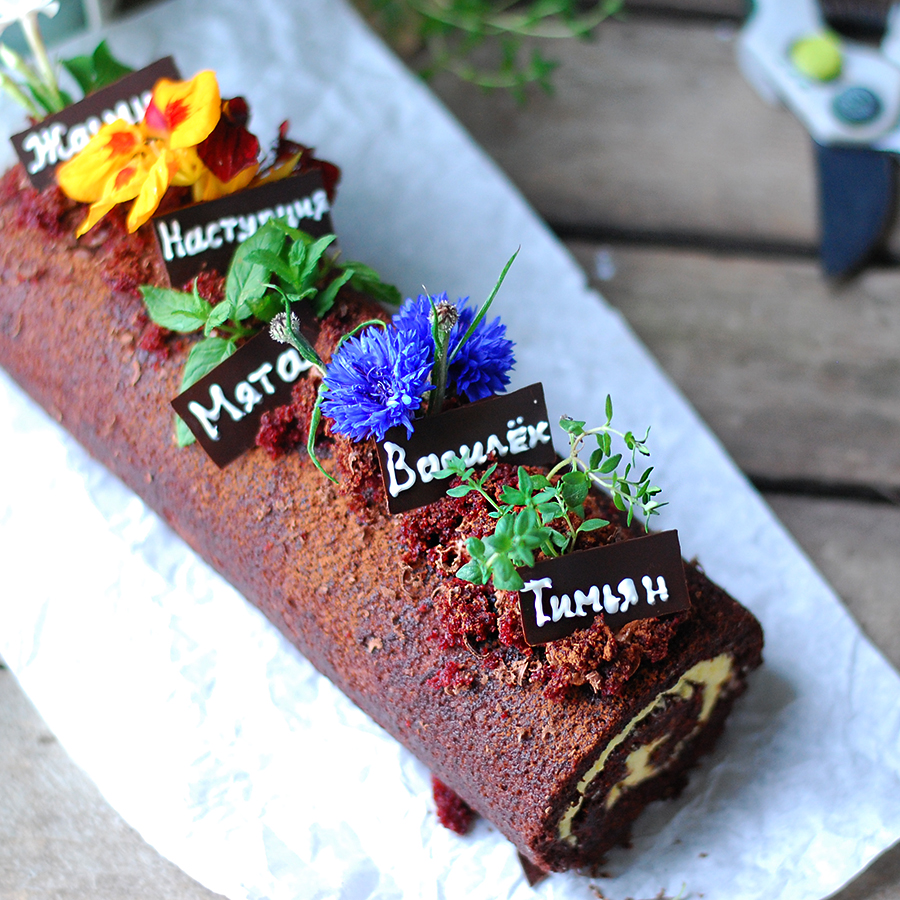 I tried fennel in salads and soups, but it was not working for my husband. The sweet goodies were a path to go. And this is how this swiss roll appeared. I took Hershey's roll recipe and super powered it a bit. Rich chocolate flavour went really well with those strong sharp fennel taste.
It's worth having a juicer for this recipe but if you don't make fennel water instead. Grate the fennel bulb, pour over a 1/2 cup boiling water and steep overnight.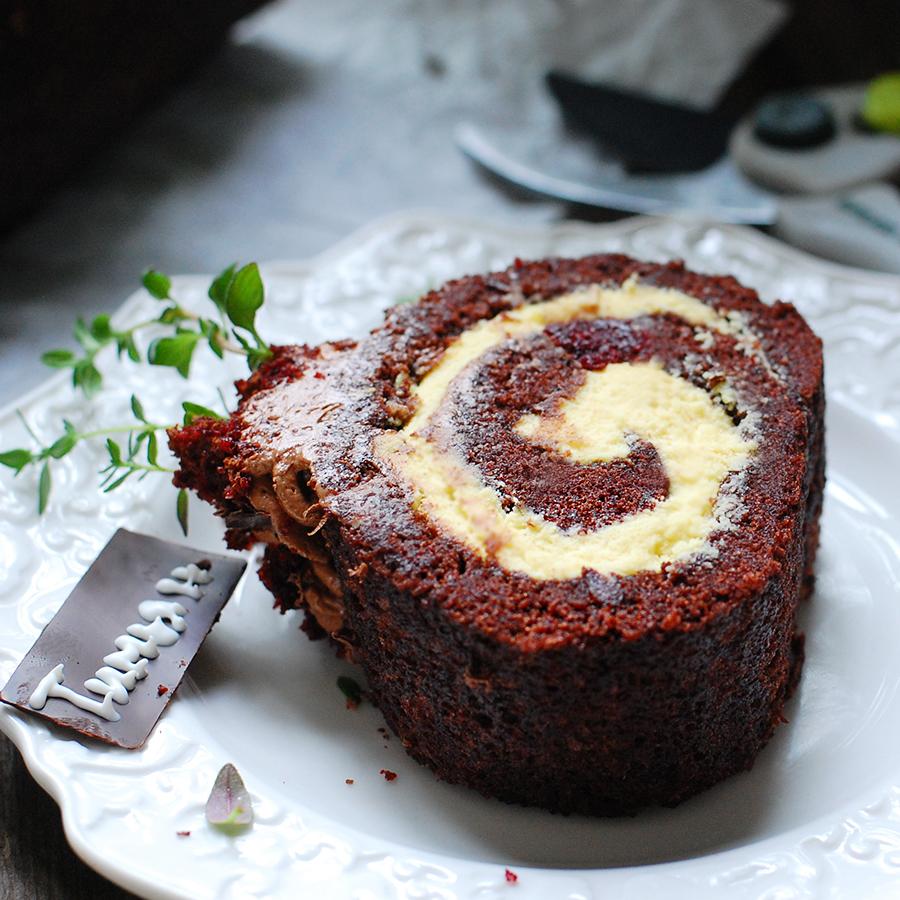 Recipe
(for 25х37 cm tin, 30 min hands on + 3-4 hours to set)
Chocolate sponge with fennel:
1/2 cup flour
1/2 tsp baking soda
1/2 tsp baking powder
A pinch of salt
4 tbsp cocoa powder
4 eggs separated
130 g sugar
80 ml fennel juice or fennel water
1 tbsp Cointreau
Mix flour, salt, soda, baking powder and cocoa in a smal bowl. In a big bowl whisk egg yolks with Cointreau slowly adding sugar to a very thick mixture. In another bowl whisk egg white to soft peaks.
In three additions mix in dry ingredients alternating with juice. In two additions fold in the whites, stirring very carefully. Pour the batter into a tin lined with silicon sheet or baking paper. Bake at 180°С 12-14 minutes. The sponge is ready when it springs back after you slightly press it with your finger.
While baking, put a tea towel on the table and generously sprinkle with icing sugar. When the sponge is ready run a knife around the edge of the warm sponge and turn out on to the sugar-dusted paper. Peel the paper off the base of the sponge. Starting with a short side of the cake, roll up the towel and the warm cake together into a spiral to the end of the towel. Leave to cool on a rack for about an hour.
When completely cool gently unroll the cake without pressing it down or trying to make it flat. Peel off the towel. The sugar crust should go off as well.
Spread the ganache onto sponge using a palette knife or a spoon. Roll the cake bake into spiral, wrap in cling film and leave in the fridge for 2 hours.
When set release the swiss roll, cut the edges on both sides. Tear the cut sponge into crumbs to make some garden dirt. Decorate the cake with left ganache, sponge crumbs, cocoa powder, grated chocolate, herbs and flowers. I used thyme, jasmine, mint, cornflower and nasturtium.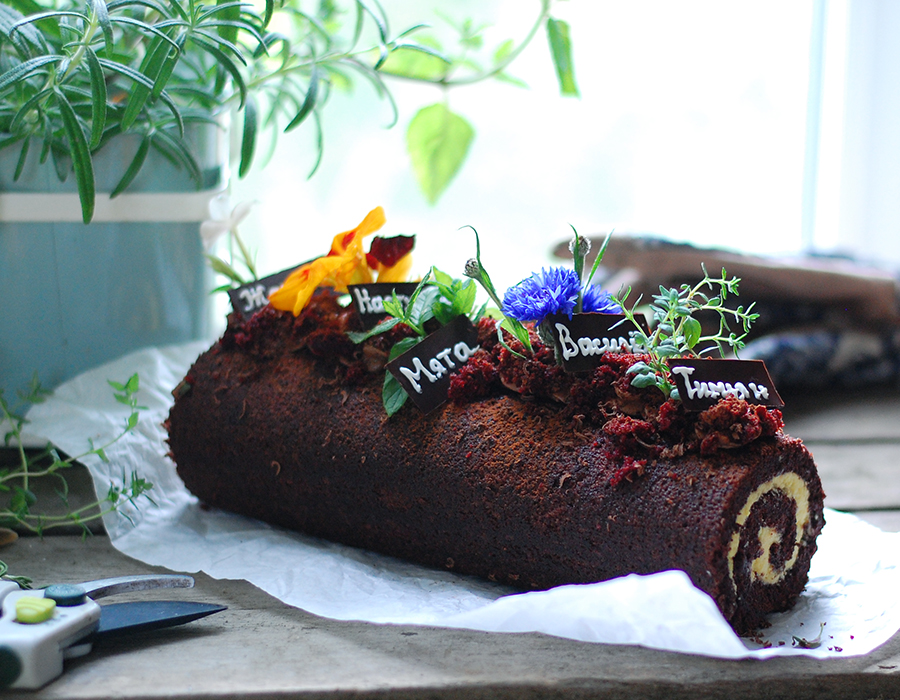 White chocolate ganache with jasmine and saffron:
200 g white chocolate (cubed)
230 g double cream
20 g fresh jasmine flowers (or 10 g dried)
0,5 g saffron
Heat the cream with saffron and flowers until starts to simmer. Remove from heat and leave to steep for 24 hours. Pour the cream though a sieve and heat to simmering once again. Pour hot cream over the chocolate and mix well until chocolate melts and mixture is smooth. Leave to cool at room temperature first, then put into a fridge for 2 hours. Whisk for 1 minute on high speed.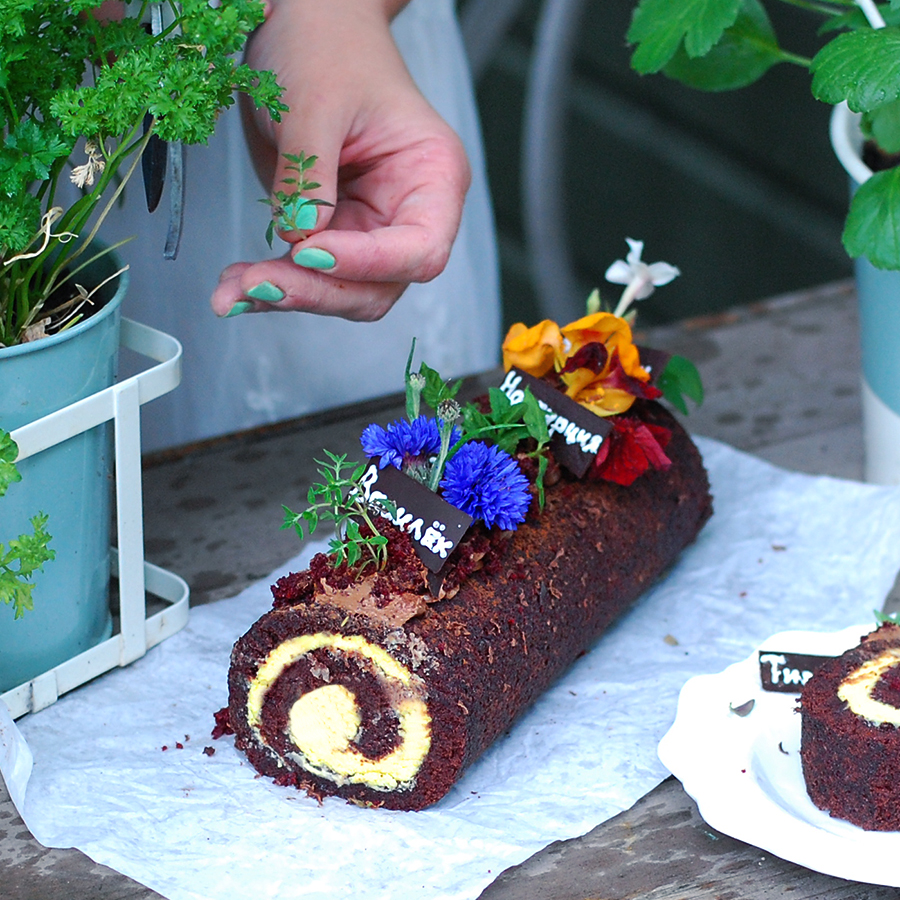 Enjoy your cake!