I love the smell of yeast dough in my house. This smell makes house – Home. With chimney and oven, with excited kids, circling around the oven, with hot tea and plenty of stories to tell each other. Either with Monopoly in centre of the table and the players, chewing the pasty thoroughly before their next turn.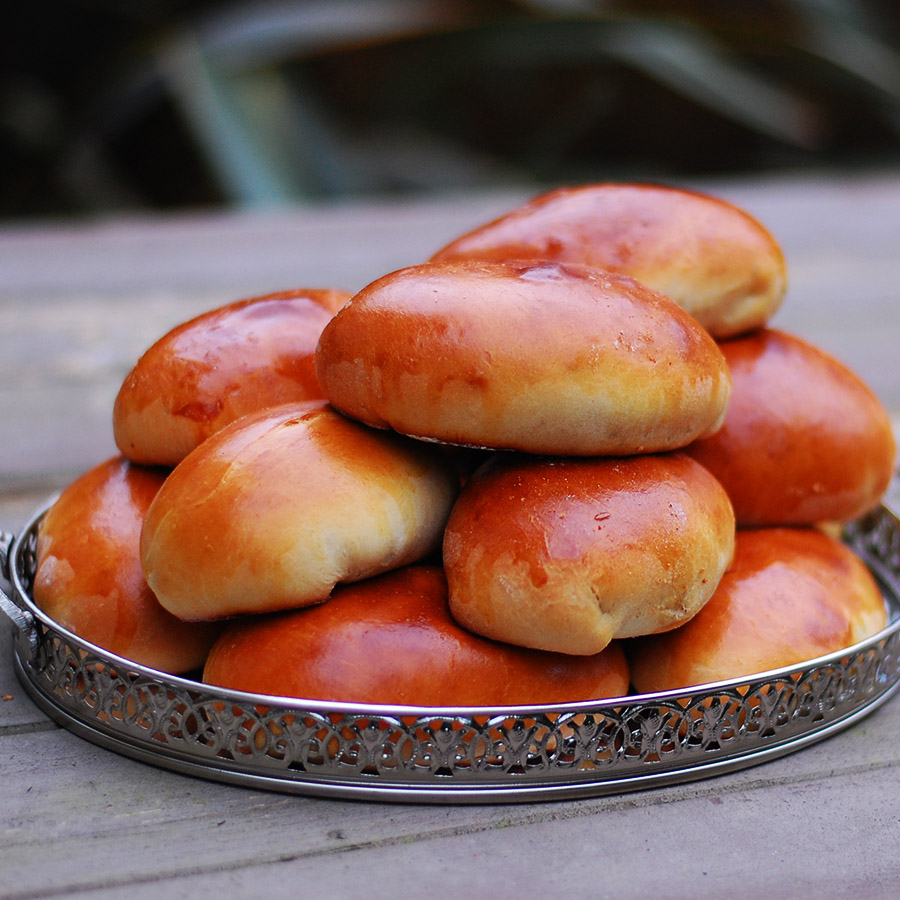 I love warm bread with a crunchy crust and I don't care if anyone says do not eat hot bread it is unhealthy. I love the smell of sweet pastry with cinnamon, filling all the house from bottom to roof and bending your will even if you have very strict rules about your New Year Resolutions. I love the rough surface of baguette. But most of all I love oven baked pasties. Because for me it is an envelop with my childhood inside. For me it is an instant travel to my Nanny's kitchen, where I sit on the chair, wobbling my feet in the air and waiting impatiently. And when the pasties are ready, happiness fills my mouth.
My favs are pasties with stewed/fried cabbage. But as I have men in house who demand meat, we cooked two kinds of pasties: cabbage and chicken. You can make any of the filling you like. The most important part in this recipe is the yeast dough.
Recipe:
For dough:
240 ml milk
2 tsp dry yeast
3 tbsp sugar
2 tsp salt
2 eggs
45 g butter softened
500 g plain flour +a bit more to dust the kneading surface.
1 beaten egg
Warm milk to 35-40°С, add yeast, salt and sugar, mix well. Add 2 eggs and warm softened butter. Stir. Fold in flour, mix, then knead for about 3-5 minutes. The dough will be sticky but must come unstuck easily. Put the dough into a clean bowl, cover with a clean towel and leave for an hour in a warm place (or for a night in a cool place).
Take the dough out of bowl onto a table dusted with flour well. Make a thick and long (about 33-37 cm) sausage and divide into 15 pieces. Roll each piece (one at a time) into 12-15 cm ovals, use beaten egg to smear on edges, add you filling into the middle (about 2-3 tbsp), wrap it by uniting the opposite edges. Tuck it up well and turn the pasty so the seam is down. Leave for 8-10 minutes, smear with egg and  bake in pre-heated oven at 180°С  fot 18-20 minutes or until golden brown.
.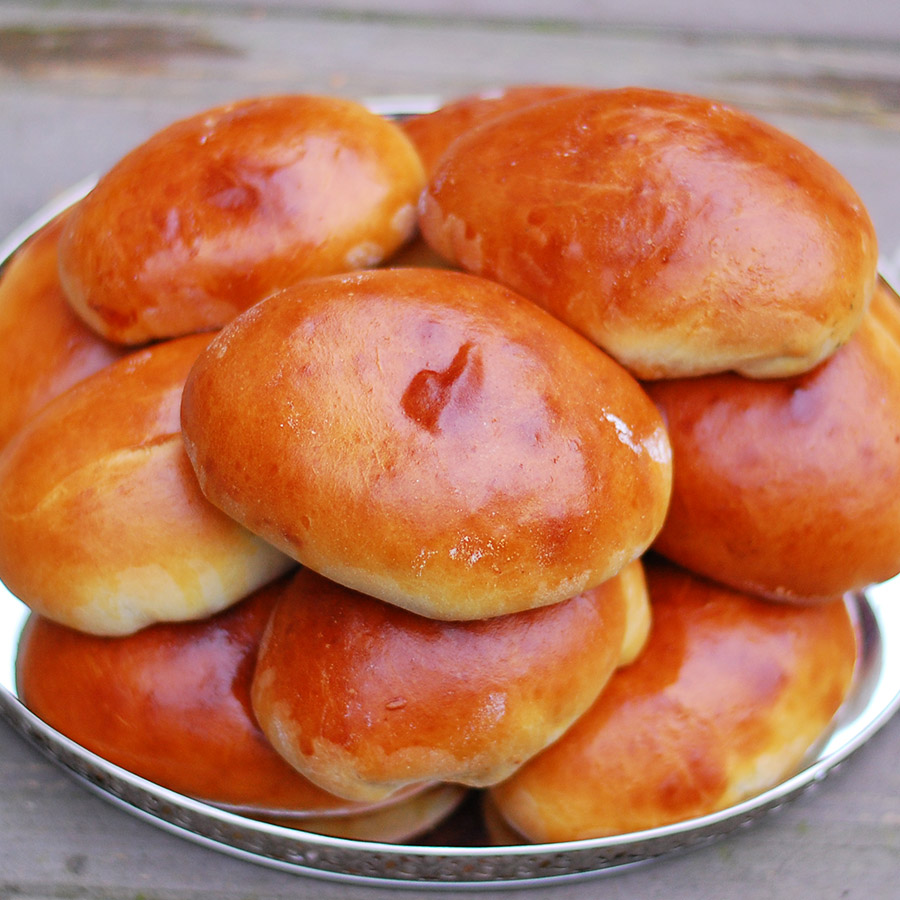 Filling:
Cabbage.
half a medium cabbage head
1 med carrot
2 spring onions
salt, pepper
Cut the cabbage thinly, grate the carrot, chop the onions, add salt and pepper and press cabbage with your hands. Cook on a frying pan for 3 minutes on a high heat. Lessen the heat add a small splash of water and cook for further 8-10 minutes under the lid. Chill before stuffing pasties.
Chicken
2 chicken breast fillets
1 chicken tight skinless and boneless
1 small onion
5-7 springs of coriander chopped
salt, pepper. paprika.
Mince chicken with a knife. Chop onion, cook on frying pan with a little oil. Add mince and fry, constantly dividing mince with a spatula so that you get  fried mince not a big chicken burger :). As there is no pinkness in meat – remove the pan from the heat, add coriander and season well. Cool completely before stuffing pasties.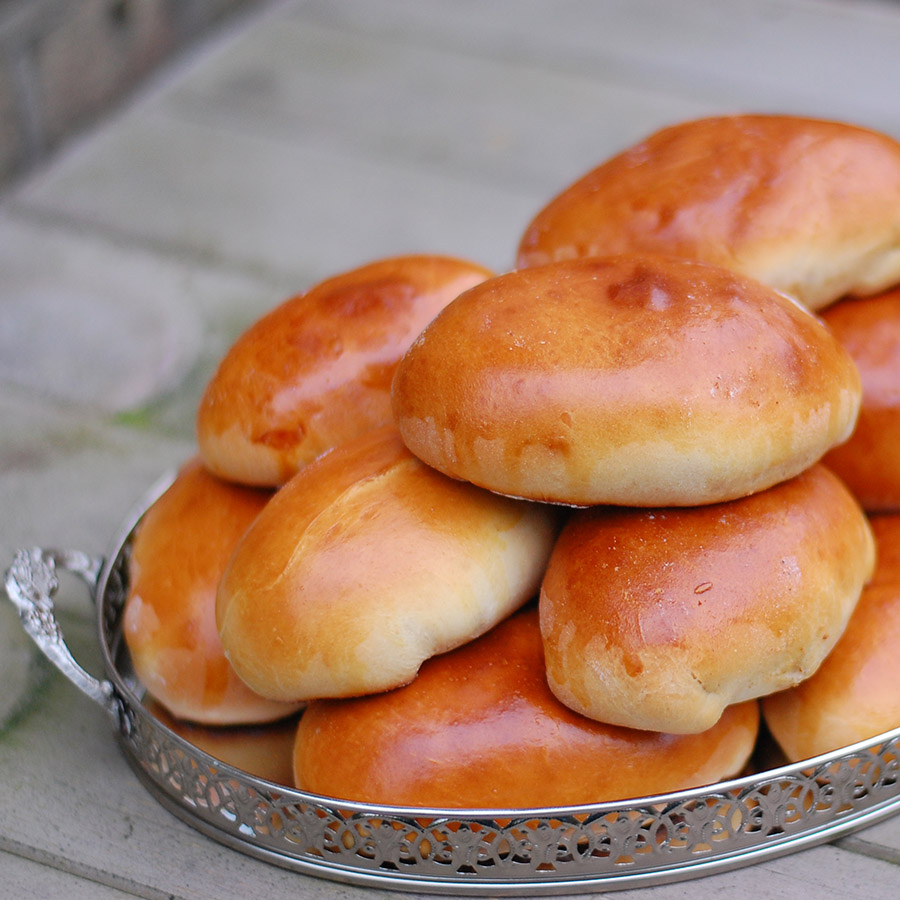 Enjoy!