The end of summer is a pleasant time for all types of foodies. All kinds of tasty things reach their perfect ripeness. Fruits and veggies, of course, some berries, honey, nuts and – kings of foraging – mushrooms.
Girolles are my personal favourite among mushrooms. They are dense, clean, a little sweet and look very vivid and colourful on the plate. When I happen to get a bag of girolles, my first desire is to make Russian style fried potatoes with mushrooms. But after that I allow my fantasy to rush. So how do you feel about girolle for breakfast?
A tasteful idea – we can bake 'em in the oven with cream and egg. En cocotte. Dust your ramekins, you'll need them for this one.
The recipe waits for you on the recipe card below the photos.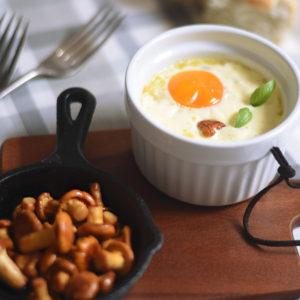 Girolle and eggs en cocotte
2016-09-01 03:25:09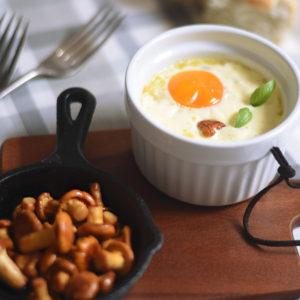 Serves 4
Ingredients
160 g girolle (cleaned and sliced)
2 tbsp butter
200 ml double cream
1/2 shallot (finely diced)
1/2 tbsp lemon juice
2 springs thyme
salt and pepper to taste
4 eggs
Instructions
Preheat oven to 170℃. Grease the ramekins (about 8 cm in diameter) with half of butter, season ramekins with salt and pepper, so that the seasoning stays on the buttered sides.
Melt the other half of the butter in a frying pan. Add girolle and shallot, cook for 2-3 minutes to achieve light golden colour.
Boil 140 ml of cream in a pan to reduce by 1/3. Pour the cream into girolle, add thyme and cook couple more minutes. Remove from the heat and add lemon juice. Stir well.
Divide girolle between 4 ramekins evenly. Cover with 1 egg each (be careful not to break the yolk).
Pour about 15 ml of cream on top of each egg, covering the whites.
Bake about 10-15 minute depending on your over, till the white is set and the yolk is still runny.
Decorate with thyme leaves and girolle slice. Serve with bread.
Adapted from Michelle Roux
Adapted from Michelle Roux
Yellow Chimney https://yellowchimney.com/