Do you think it's the right time to publish the New Year's Eve menu? Yeah, I know it already passed. But I look at all those bloggers who publish all Festive recipes starting from October – and I just wonder how do they manage to do that? I can hardly wrap my head around all the preparations going on not to mention the blog. So, yeah, sorry, I am late. But there are going to be other holidays and parties, right? And fish menu is always a good choice.
There will be several recipe cards in this post. You can print all of them or choose the one you need.
This menu consists of two starters (cold and hot), a main dish, which is salmon en croute, but slightly different and a cocktail. I will publish the recipe for the matching desert separately. The benefit of this menu is that it's really easy to expand it or to shrink for as many people as you want. If you're having a large gathering – buy a whole salmon and use one side for curing (it will make a lot of crostini and you'll have some salmon left- it'll keep nicely in the fridge) and the other side for en croute. You can buy an already boned side from Marks&Spencer – they often have a deal on it.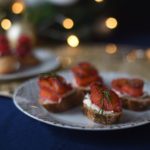 Crostini with salmon cured in beetroot
2017-01-12 05:36:18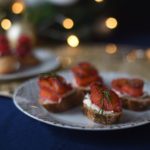 Serves 10
Ingredients
300 g salmon fillet
1 fresh beetroot, grated
40-50 g sea salt flakes
1 tbsp sugar
Zest of 1 orange
Juice of 1 lemon
2 tbsp cognac
1 tbsp chopped dill
For the crostini
Bread
50 g of Philadelphia cheese
A bunch of dill
Cured salmon
Instructions
Mix all the ingredients for curing in a bowl.
Spread the solids of the mixture on the both sides of skinless boneless salmon fillet.
Put the salmon into a zip-lock bag. Add the remaining liquid mixture. Zip the bag, leaving as little air as possible.
Leave the bag in the fridge for 24 hours ( flip it once to get a more even colour).
For crostini
Cut and toast the bread on the grill settings in the oven. 3 minutes should be enough.
Spoon a little cream cheese onto the bread, cover with slices of salmon and decorate with small springs of dill.
Yellow Chimney https://yellowchimney.com/