How do you start your Easter Sunday? Is it a trail for kids or a basket full of eggs set up on the breakfast table? My Easter bunny loves playing hide-n-seek with kids. He leaves some foot prints here and there to lead my youngsters to their chocolate treat.
Then we continue with some Russian traditional foods like Easter bread (I'll post the recipe a little later before the Orthodox Easter which is 1 May this year). And I also make some special deserts that will look interesting for children. I can tell you, it's so easy here in UK, where there are very clear and pretty symbols connected to Easter, comparing to Russia, where the only symbol will be the Holly Cross. I love those bunnies, chicks, sheep and pastel colours and flowers and eggs and birdies. So this year we made some nest with chocolate eggs – so bright and shiny!
For the meringue nests I used the same recipe as in Pavlova cake wreath . The only difference will be in how you pipe them on tray – leave some space between nests, if you want them to go separately. But an Easter nest wreath might be nice! I use Swiss meringue method, very easy to make and it works every time! Some meringues become soft and soak moist when you add filling – those don't they keep dry and crispy for a few days, so you can even store them in the fridge. (There's a full recipe on a card below)
The filling is my favourite white chocolate whipped ganache. It's smooth and creamy and is really easy to combine it, as it goes well with almost any fruit, nut or cake.
Recipe:
(makes enough for a big batch of meringues, cupcakes or even a medium cake, cooking time 20 mins, chilling time about 2 hours)
150 g white chocolate (cut in cubes)
300 g double cream (divided in halves)
Bring one half of cream to simmer in a pan over a gentle heat. Reserve the other half in the fridge. Put the chocolate into a bowl, pour the hot cream over and mix until the chocolate has fully melted. Leave to cool to room temperature, then transfer to the fridge to cool completely. When ganache is set (isn't liquid any more), whip the reserved cream to soft peaks. Then whip ganache until it holds the shape nicely. Mix in the whipped cream. Put the ganache into piping bag and fill every meringue nest to the top. Decorate with chocolate eggs of your choice, I used M&S ones. So shiny and bright. The Cadbury Mini Eggs have nice colours as well.
Enjoy! Have a Happy Easter Holiday!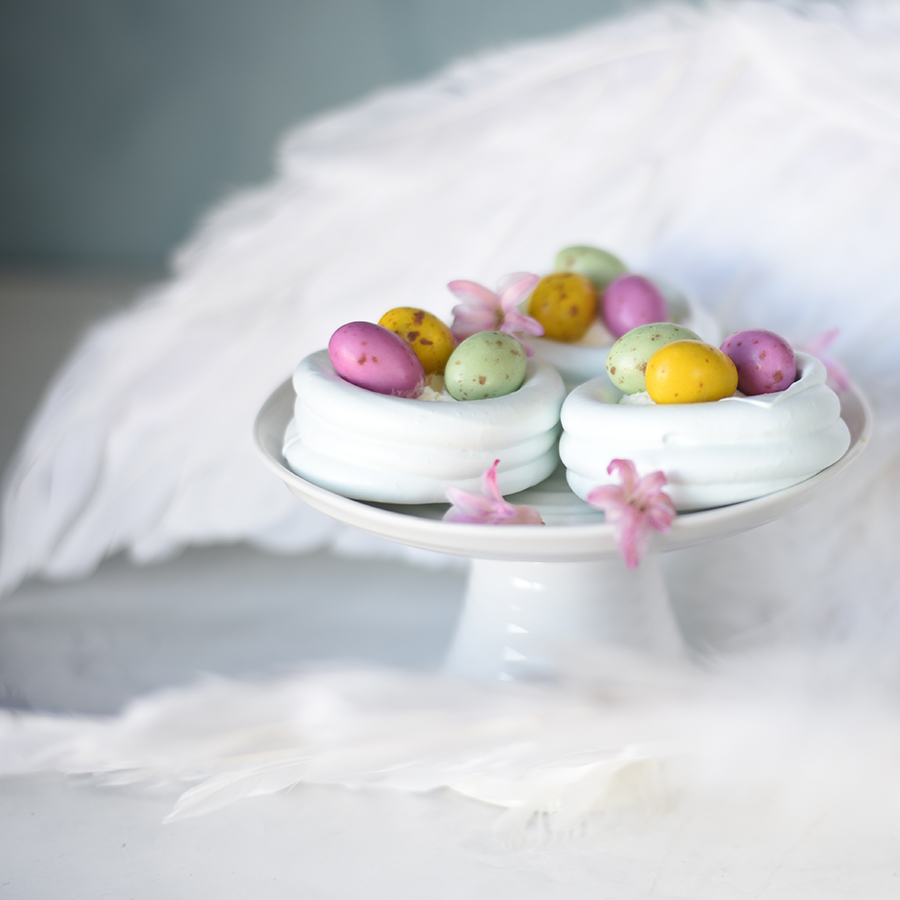 Easter Meringue nests
2016-03-21 20:36:09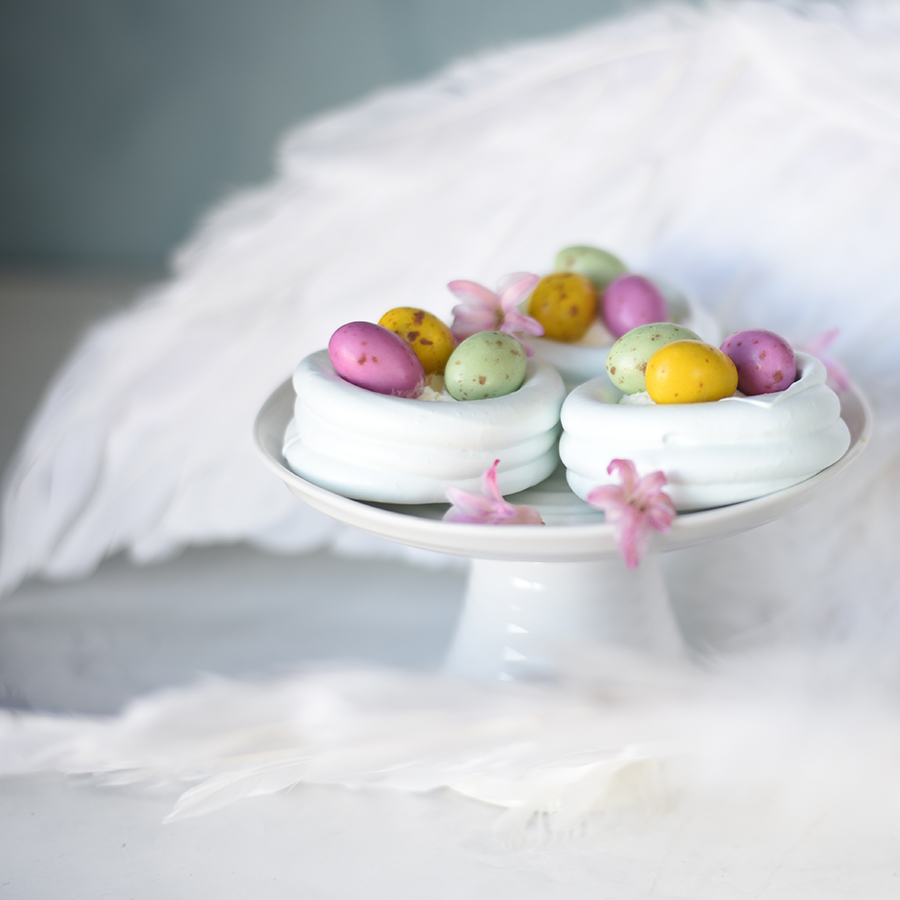 Swiss meringue
180 g egg whites (from about 5 eggs)
360 g sugar
Ganache filling
150 g white chocolate (cut in cubes)
300 g double cream (divided in halves)
2 packs of sugar coated chocolate eggs
Instructions
Meringues: Weigh the whites and add exactly twice as much sugar. Before you start, prepare 2 bowls. Rub the bowls with a slice of lemon and dry it with a piece of tissue. So that no traces of fat or water remain.
Place the whites into a clean bowl, add sugar and mix a little. Pour some water into a pan and heat to boil. When the water starts boiling, lower the heat to minimum and place the bowl on top of the pan to make a double boiler. Heat the mixture to 65-70°C whisking constantly on a low speed. The sugar has to dissolve completely.
Pour the mixture into another prepared bowl, clean and cold. Whisk with a mixer on a high speed for 7-10 minutes until smooth, glossy and thick.
Transfer the meringue into a piping bag with closed star nozzle. Line two baking trays with silicon sheets. Pipe 10-12 meringue nests leaving some space between them.
Bake in the oven at 70°C for 4 hours on fan mode. Upper and lower heating mode also will do. After 4 hours turn off the oven. Leave to cool completely without opening it (3-4 hours or overnight).
Ganache: Bring one half of cream to simmer in a pan over a gentle heat. Reserve the other half in the fridge. Put the chocolate into a bowl, pour the hot cream over and mix until the chocolate has fully melted.
Leave to cool to room temperature, then transfer to the fridge to cool completely. When ganache is set (isn't liquid any more), whip the reserved cream to soft peaks. Then whip ganache until it holds the shape nicely. Mix in the whipped cream.
Put the ganache into piping bag and fill every meringue nest to the top. Decorate with chocolate eggs of your choice
Yellow Chimney https://yellowchimney.com/