Though we are all very busy in Christmas season I continue to share my #chefs_battle recipes with you. This  one was made for a folk arts contest and I chose a traditional Russian ornament Khokhloma. The cake itself has nothing to do with Russian tradition as it is a recipe by famous Arnaud Delmontel. I found it in The New Patissiers by Olivier Dupon. The taste is fresh, smooth a bit tart and earthy with a good splash of fruity acidity. Won't keep you for long with words, the recipe is just below.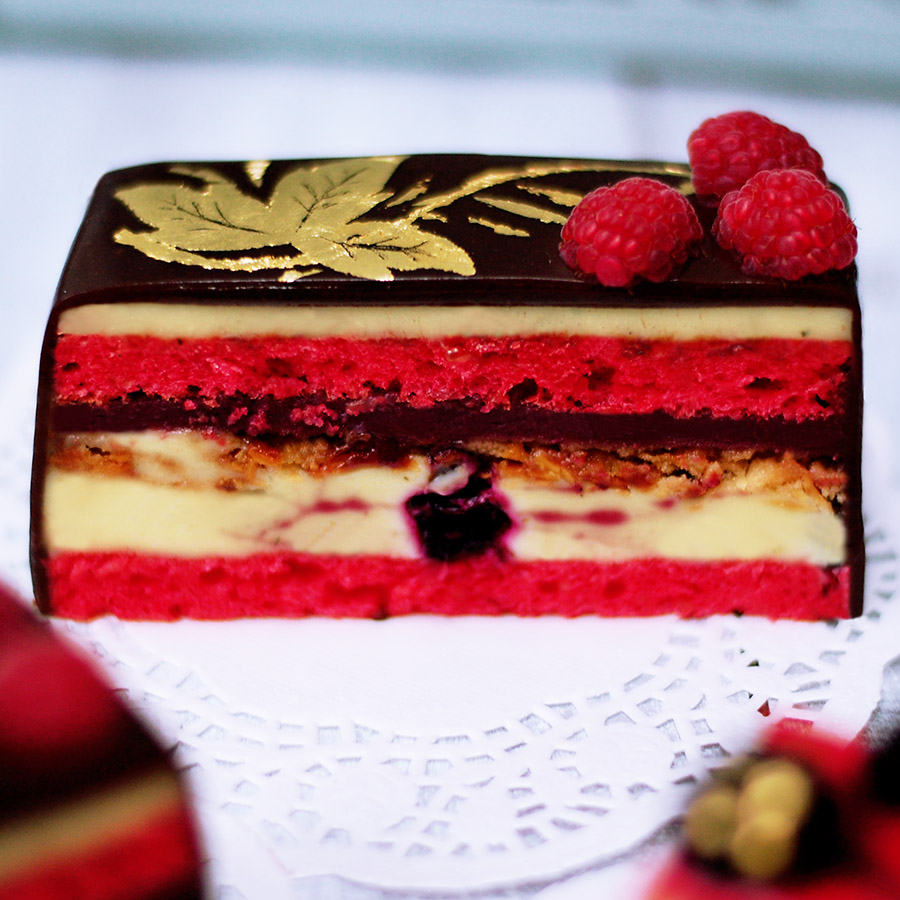 Almond dacquoise
250 g egg whites (from about 6-7 eggs)
63 g white granulated sugar
63 g icing sugar
188 g almond meal
50 g plain flour
red food colouring
Whisk whites and sugar together to a firm meringue (add sugar 1 tbsp at a time). Mix together flour, almond meal and icing sugar and fold the mixture into meringue. Mix gently, add food colouring. Spread the meringue on the silicon baking sheet into 20×40 cm rectangle. Bake at  180°С for 15-17 minutes.
Almond croquant
45 g butter
55 g icing sugar
15 g plain flour
60 g almond flakes
Blend butter with icing sugar, add flour, mix. Spread on silicon sheet and bake at 200°С for 11-14 minutes.
Black currants cremeux
100 g black currants puree (about 300 g frozen berries)
38 g egg (2/3 of an egg)
60 g egg yolks (3-4 eggs)
50 g white sugar
5 g gelatine (softenrd in ice-cild water)
38 g butter
Heat puree to boiling. In a bowl whisk together egg, yolks and sugar to thick and pale foam. Continuing to whisk add half of hot puree. Add egg mixture into the pan with the other half of puree and heat to 87°С. Remove from heat, add gelatine, butter and mix well. Pour into cool bowl, cover with film and refrigerate for couple of hours. whisk with blender before use.
Tarragon ganache
375 g double cream
12 g fresh tarragon
450 g white chocolate
Boil cream and tarragon together. Cover and soak for 12 hours. Take the tarragon out, heat the cream again and pour over the chocolate cut into small pieces. stir until fully incorporated.
Mirror glaze
150 g golden syrup
150 g sugar
75 g water
150 g chocolate (I made two different glazes – red with white chocolate and brown with dark chocolate)
100 g sweetened condensed milk
12 g gelatine (softened in ice-cold water)
Cut chocolate into small pieces, add condensed milk. Bring water, sugar and syrup to 105°С and pour it over the chocolate mixture. Stir to incorporate, add gelatine, mix well again. Cool to 31-33°с  before use.
Assembling
Cut dacquoise and croquant to the size of 20×20 cm tin. Cover the bottom with food film with as few wrinkles as possible and spray it with oil. Spread some ganache in the bottom of the tin to form a 3 mm layer. Place the 1st layer of dacquoise onto it. Spread cremeux over dacquoise, cover very carefully with croquant, spread the remaining ganache, put about 100 g fresh or frozen black currants, slightly pushing them into ganache layer. Cover with dacquoise and freeze about 3 hours.
When set take the cake out of the tin, turn it upside down and smoth the ganache layer until very even so the glaze will spread evenly and thinly. Cut into halves and put both halves on a wire rack placed over a big baking tray, leaving enough space between them. Pour red glazing onto first half and the brown one onto the second.  To decorate use edible leaf gold and suitable stencils.
Enjoy!