It's been a while since my last post here, as we'd been on holidays in Cornwall. It is certainly worth of writing a long and joyful post about it, and I promise you, I'll do it as soon as. But right now I want to tell a story. A sad story.
The first day we occupied our cottage in Mevagissey, I was checking if Wi-Fi is working and found a recipe of some splendid basil & berries tart. The next thing in the house to check was of course oven. It was so frustrating to find that the oven was sooooo old and slow that I had to spend half a day in front of it to cook eggs & bacon for us. There couldn't be a thought about baking a tart in it, no.
So, two weeks I was dreaming of cooking that tart and crying bloody tears… The first thing I did when we returned home – was heating the oven. Well, I'd say it was worth dreaming of. The smooth slightly sweet, moderately chocolate crust with fresh basil infused mascarpone filling and honey-sweet august berries – that's the perfect harmony of flavours and textures.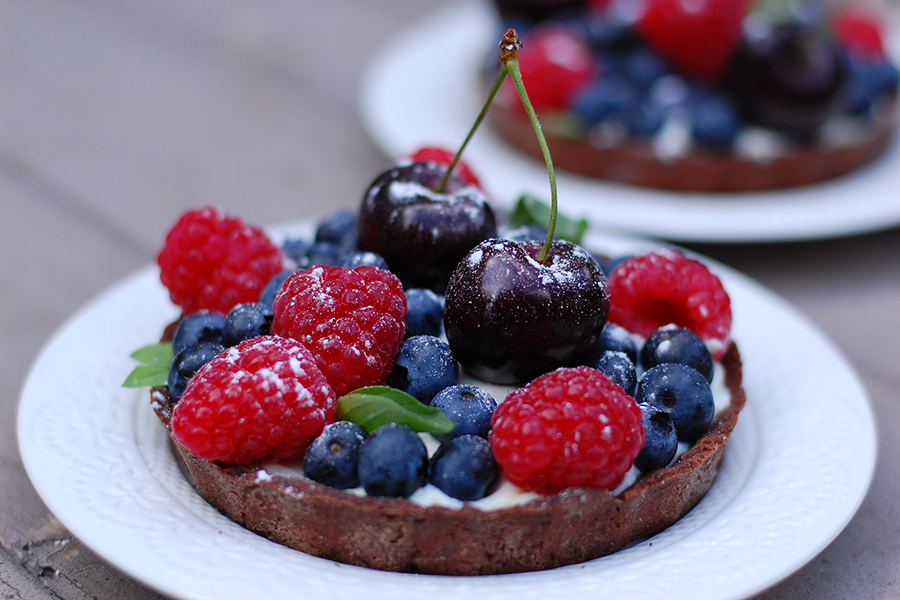 It's delicious. it looks good, it's simple. And the other good news is that with a good oven nearby it takes only about 35 minutes to make it.
So,  let's start.
You'll need:
for the pastry
125 g plain flour
30 g icing sugar
2 tbsp cocoa powder
1 egg yolk
60 g butter (cold, cut in cubes)
for the filling
300 g mascarpone cheese
zest of one lemon
juice of 1/2 lemon
4 tbsp sugar
1  1/2 tbsp water
generous handful chopped fresh basil
about 500 g berries
How to:
In a bowl mix well flour, icing sugar and cocoa powder. Add yolk and butter. Knead quickly until no butter clumps are seen. Roll the pastry to suit your form. The amount is ideal for 21 cm round form, 4 small 12 cm round forms or 33×9 cm rectangular tart form. Fill in the pastry, cover with baking paper and put some baking weights (or alternatively – uncooked rice or dry beans). Bake for 20 minutes at 180° C (350°F), then take the paper and weights away and bake for 5 more minutes to make a nice crust.
Meanwhile mix sugar and water in small sauce pan over low heat. Once the sugar fully dissolved add chopped basil and bring to boil. Set aside to cool down. When cool pour through a sieve. Whisk together mascarpone cheese, lemon juice and zest and syrop till light and fluffy.
Fill in the mascarpone mixture into completely cool crust. Top with lots of berries, add some tiny basil leaves and dust with icing sugar to decorate.
Enjoy!